At Waltzing Horse Dressage, the horses' needs always come first!
Training
Inquire about availability for training with Waltzing Horse Dressage. Sarah works with horses from green stages to FEI. She is happy to discuss your horse and your horse goals with you, creating a realistic program after evaluating the horse and their current condition and level.
Clinics
Here at Waltzing Horse Dressage, we are incredibly fortunate and proud to have long-lasting relationships with some of the top trainers in the world. We regularly have the assistance of several Bereiters (Riders) of the Spanish Riding School, as well as past and present Chief Riders. In Spring 2019, we look forward to adding a new name to this roster as well!
Lessons
Sarah deeply enjoys helping riders find new skills and increase their awareness of the horse and rider dialogue. She teaches with a very strong emphasis on the rider's seat and position, thereby drastically improving the use and effect of the rider's aids. After all, a horse is only as good as its rider! (hop over to our testimonials page to see what her students have to say about her!)
Students can haul in their own horses (with approval) to take lessons, or they can ride one of several lesson horses Sarah has available. Please contact us for more information on the Waltzing Horse Dressage lesson program.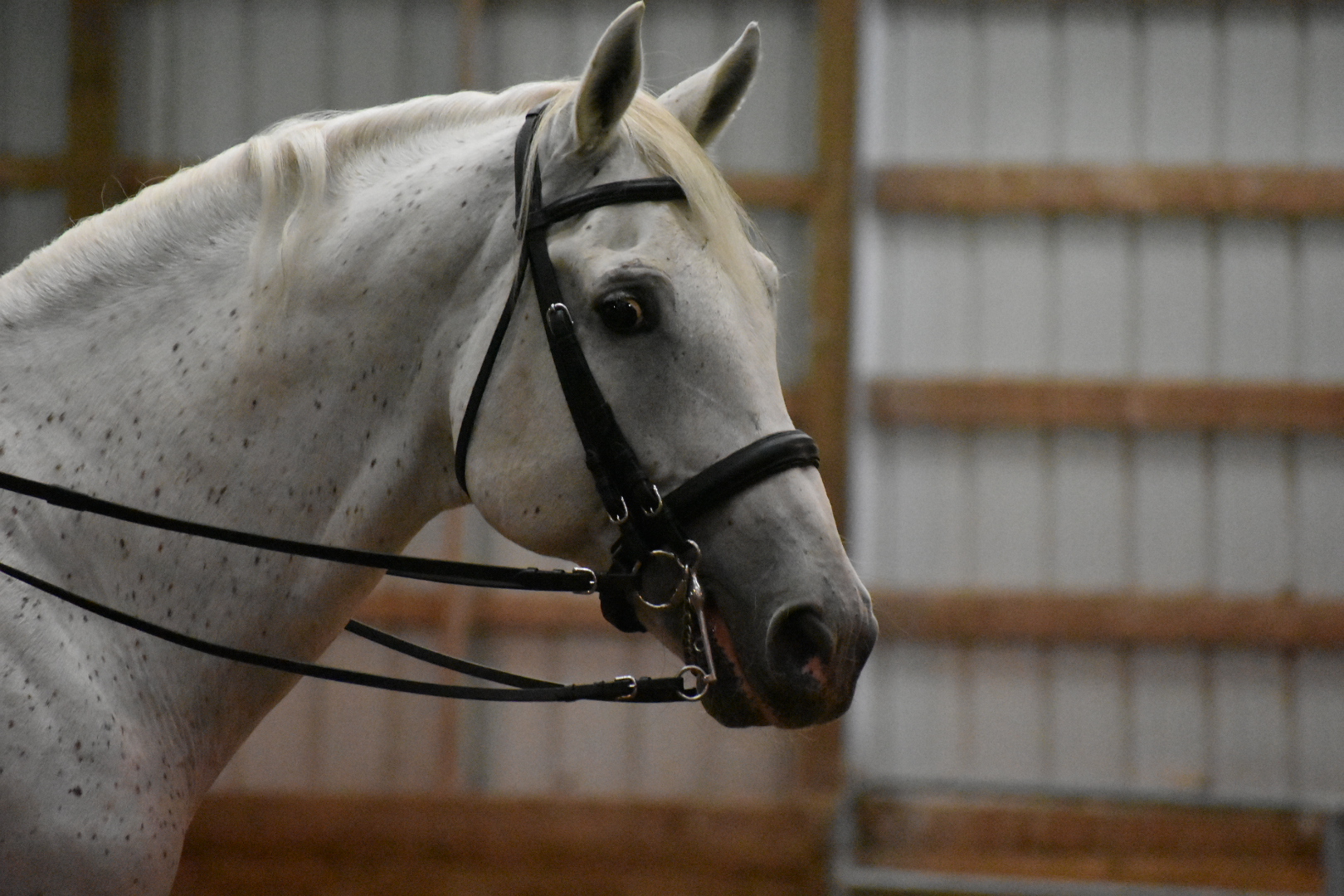 Pompi is a seasoned senior Lipizzan stallion. He is a super mount for longe lessons designed for the rider, as well as a horse who can teach a rider the ropes of lateral work. He can also give a taste of the upper level work for those who are ready.
Rosie is a Lipizzan mare, who has served as an intermediate lesson horse for several years. She is a Ferrari type ride, and is good for helping a rider learn how to fine tune their seat and aids.
Leggs is a senior Danish Warmblood, having performed in two FEI careers, both as a show jumper and later as a dressage horse. He has competed through Intermediare-1, helping Sarah finish her Silver Medal and earn half of her Gold Medal scores in one season. Today, he is retired from showing, but is a suitable mount for beginner type riders and also for the adult amateur who is just getting back in the saddle after a prolonged hiatus.
Lipizzan Breeding
Waltzing Horse Farm offers several options with respect to Lipizzan breeding, including:
In utero purchase/custom breeding cross of one of our stallions and broodmares;

Stallions available for artificial insemination ("AI"); and

Broodmares available for breeding.
Please see the Stallions and Broodmare pages to learn more about our available stallions and mares for breeding, and feel free to contact us with any questions.

Working Student Program & Internships
Waltzing Horse Dressage occasionally has openings for those looking to fulfill their internship requirements, and also for those serious about developing their best potential via a working student experience. Arrangements are somewhat flexible depending on each individuals current level of competency and experience. Anyone interested should contact Sarah to discuss the possibilities!

Waltzing Horse Dressage at the Waltzing Horse Farm
WHF daily care includes:
Grain fed two to three times daily*

First and/or second cutting hay fed three or more times daily*

Daily stall cleaning and fresh bedding

Daily turnout in single or small group paddocks (weather depending)**

A 20m X 40m indoor riding arena with mirrors

Large 12' x 12' matted box stalls in three barns

Bathing area with hot and cold water

Heated office/viewing room with bathroom

Climate controlled tack room

Sound system for clinics and/or lessons
*Each individual horse has a feeding regime dependent upon the horse's age, weight, workload and any special needs
**Stallion turnout available